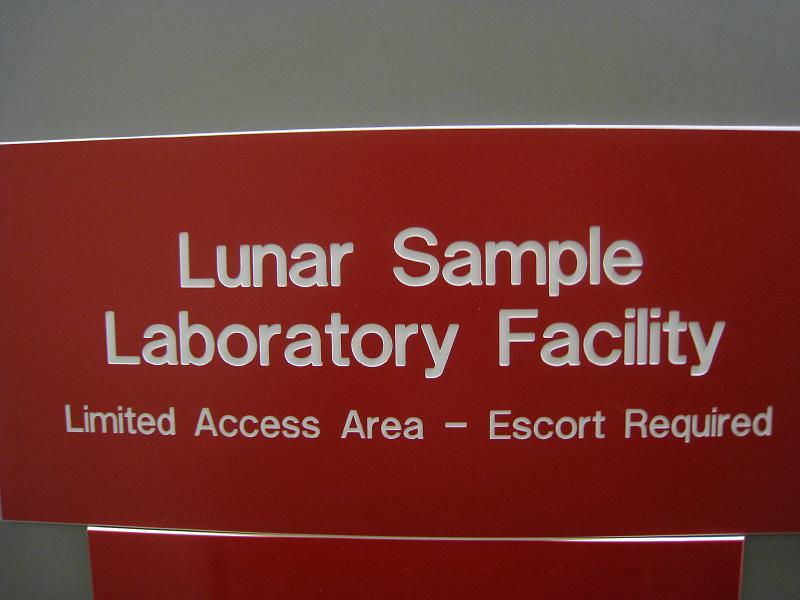 While attending the 41st Lunar and Planetary Sciences Conference in The Woodlands, TX (a suburb of Houston) in early March 2010, I was lucky enough to visit the Johnson Space Center's famous Lunar Sample Processing Facility. Most of the time during my one week stay, I was setting up, staffing, and taking down an exhibit focusing on NASA/ESA missions to the Outer Planets.
After packing the exhibit Thursday night we got a good night's sleep and headed to Johnson Space Center, about an hour's distance away the next morning. Every space enthusiast can visit JSC, and have a great tour. But we had a specific destination in mind — the Lunar Sample Processing Facility. How appropriate a visit, especially after a week at the Lunar and Planetary Sciences Conference!
First, we stopped for lunch at astronaut Jose Hernandez's family restaurant Tierra Luna Grill.
After lunch we (we being my JPL outreach colleagues Preston Dyches, Eddie Gonzales and I) parked outside Building 31N, and walked upstairs. We donned booties to cover our shoes, and put on head-to toe white bunny suits, gloves and head covering, after removing any gold jewelry. Why? Gold and silver alloys (even 24K gold) have trace amounts of lead and lead is not allowed in the laboratory. Our cameras and cell phones were wiped down to reduce dust, and placed in an airlock. Then we entered the air shower, where any dust remaining on our bunny suits was gently filtered off, and a minute later, we walked into the Lunar Sample Laboratory Facility.
We entered the room, filled with monochrome cabinets and tools made of steel and teflon. White clad space geeks listened intently as our tour guide, Charles Galindo, principal scientist and astrobiology lab manager (he's very active in educational outreach) took us from cabinet to cabinet, peeling back the years of history, to reveal the why and the how behind the wow!
Soon we were inserting our hands into the huge and awkward neophrene gloves, and touching hammers that touched real lunar samples! We walked around the room, and into the corridors, past the locked steel vault holding priceless samples collected from the surface of the moon. At one end of the room was a large case with three large lunar samples. I'll end my little tale with a short description of these three samples.
Lunar Sample 61016.7 was collected from Plum Crater on the Apollo 16 mission. This sample is nicknamed Big Mulie in honor of UT geologist Bill Muehlberger, and is the largest rock (11.7 kg) collected on the Apollo Missions. The sample contained 4 rock types, including anorthosite from the ancient lunar crust, age: 4.5 billlion years.
Lunar Sample 15459 was collected from Spur Crater on the Apollo 15 mission. It is a large dense regolith breccia which contains a mineral, glass and chemical composition like that of the local soil. Here are a couple In Situ images!
Lunar Sample 15556.0 is medium grained vesticular basalt from Apollo 15. Here are many images including thin sections. This sample was collected 60 m NE of the rim of Hadley Rille!
When I am out with my telescopes showing the moon to my sidewalk astronomy audiences, I carry a lunar landing site map exactly like this one. The Apollo 15 landing site is easy to point out to my audiences, especially near the first quarter moon phase. It's near the familiar lunar landmarks like the Appenines, right on the rim of the great Imbrium Impact basin.
Hadley Rille is an observing mecca for lunatics like me. It draws me in to it, and then with a nod to space history and Apollo 15 recollections, I can't help but try to see some of the tiny craters near the landing site. Peering through an eyepiece at the areas where men landed and walked on the moon adds a dimension to amateur astronomy which I find compelling. You will too, I'm sure!
My complete photo album, including more site visits at JSC and the exhibit at the Lunar and Planetary Sciences Conference 2010 are here. Many thanks to Charles Galindo of JSC for taking us on this amazing adventure and to Eddie Gonzales of JPL for orchestrating the whole visit!