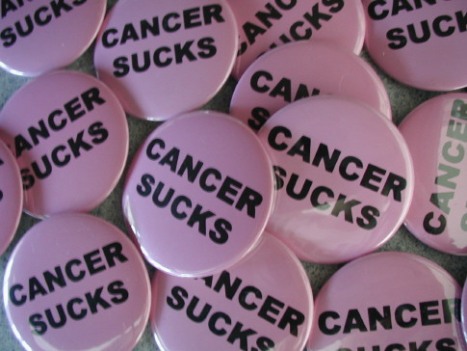 Every where you turn, you will be running into pink this month. Pink tic tacs, pink yogurt lids, pink Harry and David pears, pink airplanes, and even pink buckets of fried chicken! It's Pinktober, aka Breast Cancer Awareness Month. There are some cancer survivors who hate the pink, calling it pink nausea, reminding us that cancer is not pretty.
The images of those who are dying of breast cancer aren't shown alongside the pink ribbons or on the chicken buckets. And those with metasatic breast cancer, or incurable breast cancer do not adorn the pink promo advertisements, either.
Other cancer survivors — like my sister Wendy — sometimes carry a pink reminder of their survivorship, and not just during October, either. I understand both feelings and can agree with both sentiments.
This weekend, at a family get-together, Wendy had a recyclable black shopping bag with a big pink ribbon sewn into the front and back. It's a gorgeous bag, and one that means something unique to her, as a breast cancer survivor. She sometimes wears her pink breast cancer survivor baseball cap from a cancer walk. Or a diamond "ribbon" pendant. When she does, sometimes a person will stop and ask a question, or just smile at her. But she knows these symbols carry more meaning to her, more than a purchase.
40,000 women and 400 men die each year from breast cancer, and that number is not going down. I'm glad Wendy is here to wear her pink cap, and carry her black and pink bag. I mourn for others who have lost their loved ones to breast cancer. I mourn the friends I have lost.
What I want to promote is funding for Breast Cancer Research and Metastatic Cancer Research, specifically. That is where I want my donations to go. I followed my friend Susan Niebur's advice: to turn awareness to action: donate, educate, advocate, volunteer. I am trying to do all four this year, narrowing down my own small impact to breast cancer research. I want those numbers of men and women who die every year to go down, not stay the same.
Here's a great post called 7 Smart Tips for Supporting Breast Cancer Awareness Month The Right Way. It distills Susan's suggestions, suggesting you research the charities the pink grocery products support, that you ask where the money goes, and/or that you donate directly to research.
I joined the Army of Women 2 years ago in honor of my sister Wendy, who is cancer free now after breast cancer surgery and radiation. The army is looking for volunteers to partner with scientists and researchers seeking to unlock the key to preventing breast cancer. The Army of Women welcomes women (and men) of all ages, all ethnicities and all risks. It is a chance for women, and men too — who have had breast cancer or not — to directly participate in research, through questionnaires, phone calls, blood samples or diet and exercise studies. Volunteers receive emails with research studies, which they can choose to participate in or not. I joined this army to save lives, because there is no cure for breast cancer.
Here's Susan's suggestion blog: Turning awareness to action: donate, educate, advocate, volunteer
There's a great Breast Cancer weekly tweetchat Mondays at 9pm ET, 6pm Pacific: Tweetchat #BCSM for those interested in a weekly Twitter dialogue between those who have breast cancer, those who treat breast cancer, research advocates, research foundations, supporting family members, and interested lurkers and learners (like me). For those who are on Twitter, look at these hashtags in addition to #BCSM: #pink #pinktober #IBC (Inflammatory Breast Cancer) #MBC (Metastatic Breast Cancer) #pinknausea (offensive commercialism) #redefinepink and find your place or your interests, and read along or join the groups. You don't even need to be on Twitter to read the posts!
In the meantime, I know some people are sick of the pink, especially excessive commercialism or are disgusted by Facebook breast cancer memes. But I know others who embrace the pink because it did make them aware, helps them communicate breast cancer awareness, research, or provides their own storytelling backdrop. All of these scenarios are ok with me! We must find a cure for breast cancer!
My other blog posts about cancer awareness
Stay strong and fight cancer
Some thoughts about cancer
Lymphedema Sleeves Demystified
Some good links
Think Green for Karen: California Lyme Disease Association
Think Blue for Mojo: American Prostate Cancer Foundation
American Cancer Society Relay for Life